For recent graduates in data science, it could be an uphill challenge to bag an entry-level job amid the global pandemic. Although, almost all industry sectors have taken a considerable hit from the COVID disease, the data science job market would come under employment sectors that have been 'moderately affected'. Companies that hire data science professionals globally have off late, started hiring data science talent, virtually. However, for fresh graduates in big data technology, it can prove to be a little overwhelming to getting interviewed virtually, with no previous experience of the same.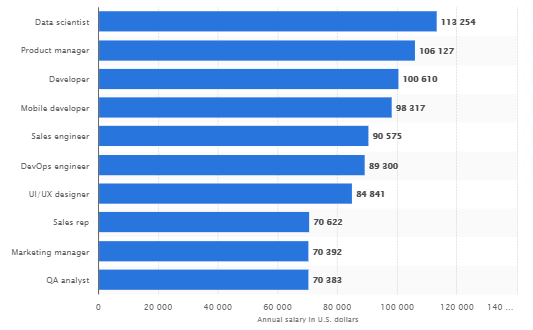 Highest paying entry-level jobs in the tech industry in the US in 2019 (in USD)
Source: Statista
As per a 2019 Statista survey, it was found that among all the entry-level jobs across industry sectors in the US, data science talent was being paid the highest, amounting to USD 113,254 annually. The following data scientists in the list were product managers and software developers, earning $106,127 and $100,610 per annum, respectively.
The Complexity of Data has Risen Amid the Current Crisis
The advent of the pandemic brought in a massive change among people in terms of an inclination towards going digital. Any and every kind of shopping is being performed electronically, on the web amid the current crisis situation. Even the corporate professionals are not working from their respective workplaces, but from their respective homes to prevent the virus spread.
All this has led to the generation of more complex digital data, which eventually would go to data scientists to dissect and find patterns and trends for business' aid. The quantity of data getting produced has multiplied manifolds in the last six months, thus, more pressure on data scientists and engineers. For new big data professionals starting their data science career amid the pandemic, it will be a little challenging to bring in business results at the onset of their career, given the high degree of sophisticated data at hand. Preparing well before you join your first firm can help you avoid a lot of hassles while on the job.
What are Data Science Aspirants Supposed to do in the Current Crisis Situation?
Upskilling Key to Keeping Yourself Relevant
On-the-job training is critical to a data scientist keeping himself relevant and updated with the latest concepts of data science technology. But, WFH (work from home) policy certainly restricts new entrants in the big data industry to gain on-field experience in the fast-evolving data science landscape. The only way out of keeping oneself updated with the advanced concepts of data science is constant upskilling while at home.
How can you do that? Well, there are a plethora of ways. Massive Open Online Courses (MOOCs) is one option, enrolling in the best data science certifications that are industry-relevant can be the other way for data science aspirants to keep themselves updated with the advanced data science concepts.
Network Aggressively, Both Electronically, and In-Person
Ways to network while being shackled in homes under the lockdown:
Regularly update your LinkedIn profile to find relevant connections on the said platform. Mention your data science skills & the projects worked on, over the professional portal.
Mark your attendance at data science virtual events such as Kaggle Days, CVDC, etc. to find people with interests alike.
Network internally among the data science professionals in your organization in order to get required assistance when facing sophisticated data science challenges while at work in the WFH environment.
Grab the Freelance Work Opportunities with Both Hands
While landing an ideal job can test your persistence because it's subjected to a number of factors, including the available opportunities at a specific point in time. Meanwhile, what you can do is to take on to freelance opportunities available at your disposal. It will help you gain some relevant work experience which would eventually make your resume much powerful.
We hope that the article must have provided you with valuable info about starting a data science career amid the testing times.
Best wishes for your future endeavors!