Ever since Char Dham Yatra has re-started in a very careful and phased manner, devotees, who have been waiting for 2 years now, are flocking to the holy Char Dham temples of Kedarnath, Badrinath, Gangotri, and Yamunotri. Getting to Char Dham has now become tougher since the government of Uttarakhand has capped the number of people that can visit the temples owing to the COVID norms that are set in place by the state government of Devbhoomi Uttarakhand.
Char Dham can be reached mainly through roadways via buses, private cabs, taxis, and cars. The last railway line for Char Dham is at Dehradun, Rishikesh, and Haridwar after which the passengers are bound to choose private or government bus service to reach the temples. Recently, Chardham Yatra by helicopter has been gaining a lot of momentum for being the safest and the most reliable mode of getting to the temples, especially during these uncertain COVID times.
Char Dham Yatra by Helicopter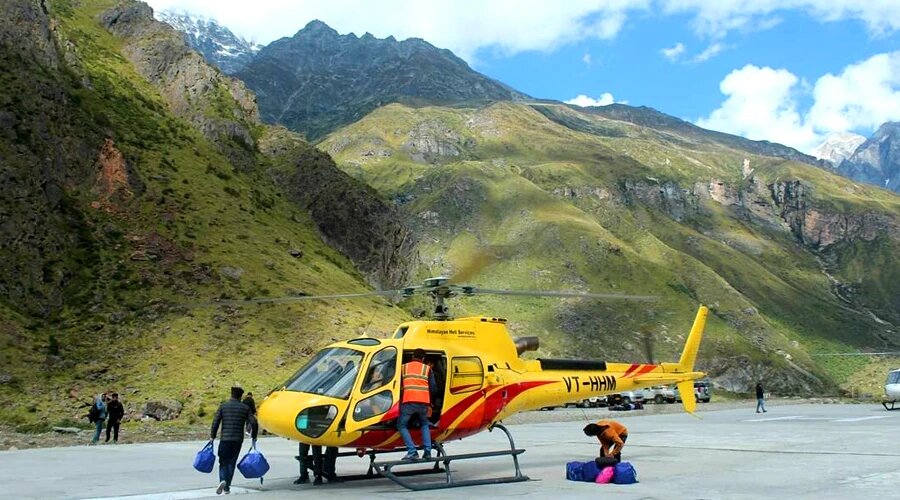 There are plenty of private companies offering packages for Chardham Yatra by Helicopter at reasonable rates and with a complete set of services. Unlike road trips which take over 10 days, helicopter trips to the Char Dham temples can be completed in just 3 days and 2 nights while also enjoying stays at good accommodation and VIP Darshan at the temples. All the helicopter trips like Ek Dham, Do Dham, Teen Dham, or Char Dham, start from the Sahastradhara helipad in Dehradun.
Here is a brief itinerary of what a helicopter trip to Chardham would entail.
The trip will commence from the helipad in Dehradun and will fly the passengers first to Yamunotri and then take a halt at Gangotri. The next two days will take the devotees from Kedarnath to Badrinath before finally making their way back to where they started at the Sahastradhara Helipad.
Why Choose Char Dham Yatra by Helicopter
A lot of devotees travel to Char Dham from far-off locations or on a limited number of holidays. Some devotees are senior citizens with a dream of making it to the Char Dham Yatra while some are physically incapable of making long trips by road. For them, being able to complete the Char Dham Yatra with utmost comfort, safety, and luxury, the Char Dham Yatra by Helicopter is like a blessing.
Booking a helicopter package would also ensure the passengers a VIP Darshan. This means that there would be no more waiting in long lines just to get a glimpse of the lord. The VIP Darshan pass holder will be able to skip these queues and easily get the Darshan done in no time. Char Dham Darshan never seemed so easy!
Post-COVID a lot of devotees and passengers are still very apprehensive about traveling long distances among huge crowds. A helicopter trip guarantees a safe journey where the crew is healthy and vaccinated along with regular sterilization of the helicopter taking place.
Government Rules for Helicopter Journey to Char Dham
Owing to the pandemic, the government of Uttarakhand has set in place some rules and regulations which every company and passenger is expected to follow religiously. Doing so will guarantee safety for all. Here are the rules:
As per the COVID guidelines, every passenger is expected to bring the latest RT-PCR negative test report.
The Yatra is only open to devotees who are fully vaccinated. Every passenger should carry their double vaccination certificate.
Wearing a mask is mandatory for everyone involved in the journey the passengers as well as the crew.
Carry an extra set of washable and reusable gloves, masks, and sanitizers.
Helicopter boarding will take place in a socially distant manner where every passenger will be 2 feet away from each other. There won't be any sort of physical contacts like handshaking among the passengers and the crew members.
All these factors put together and the number of rules ensuring the safety of the passengers make helicopters the most reliable and the safest way of getting to the Char Dham temples.
Frequently Asked Questions
Are pilgrims allowed for Char Dham Yatra now?
Yes, as of 18th September 2021, Char Dham Yatra has opened up carefully with extra care and measures to make the experience worth it.
Is there any helicopter service for Char Dham available from Mumbai/Delhi?
No. The only way of getting to Chardham by helicopter is to make your way first to Dehradun where the Sahastradhara helipad is the only starting point for the helicopter trip to the Char Dham temples.
When does the Char Dham Yatra close for the season?
The Char Dham Yatra shuts down for a duration of 6 months on the day of Diwali and Bhai Dooj. For the remainder of the year, these places remain shut down due to the harsh weather conditions.
Is registration needed for Char Dham 2022?
Yes. Registration is mandatory for every pilgrim. The assigned E-Pass is only valid for one time visit.
After all this information is out there is sure to book the best helicopter service for Chardham.