What do Uber and LeBron James have in common?
Answer's easy. – At some point in their entire existence, both Uber and LeBron James have been associated with the term 'MVP'.
The only difference is, LeBron's MVP term meant "Most Valuable Player", while Uber's MVP term meant "Minimal Viable Product".
That's right! The famous ride-hailing app was once nearly unrecognizable from what Uber has become today.
In the beginning, Uber set out to address the single and most pervasive pain of people, which was hailing cabs, by connecting cab drivers with passengers through a mobile app.
To founders' luck, the MVP version of Uber was widely accepted, and since then, Uber has witnessed rapid growth across the world and achieved massive success.
This is just one example though, in this article, I've shared 3 case studies that prove MVP is the best way for any startup or business to experience rapid growth and massive success.
Although, before we jump right into the case studies, let's clear the basics first.
What does Minimum Viable Product mean?
Building a minimum viable product is basically the process of iteration in which users' pain points are identified first in order to determine the right feature-set to address those pain-points over time.
According to Eric Ries, an entrepreneur & author of Lean Startup, a minimum viable product is a new product that allows a startup or business to collect the maximum amount of validated learnings about their customers with minimum efforts.
In laymen's terms, an MVP is basically an absolute bare-bone version of a mobile application that is built only to test your idea in the market with real users and validate your assumptions.
This approach, as we saw in Uber's example, is the best way to turn an app idea into a tangible product, especially for entrepreneurs and startups.
However, today the majority of entrepreneurs and small businesses do the opposite.
For instance, whenever an entrepreneur comes up with an idea, their immediate desire is almost always to pack as many features as possible.
This desire, however, is dangerous because in many cases, the customers may not want your product at all. And since the MVP approach involves building only the core features to validate your idea, you'll save huge amounts of money in case your idea is not accepted by the target audience.
So, now that you know what is MVP, let's jump to the 3 case studies that prove why MVP is the best way to achieve massive success
Case Study #1 – Spotify
Spotify is basically an online audio-streaming platform that has completely revolutionized the music listening experience.
Founded in 2008, Today Spotify has dominated the online music streaming industry.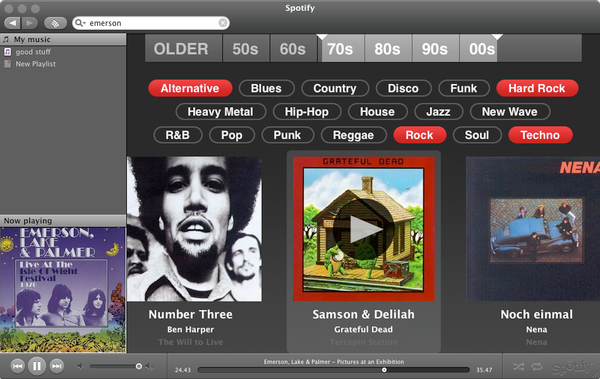 According to the company's official website, Spotify currently has 108 million subscribers from 79 markets and 232 million active users worldwide.
But how did Spotify managed to get to where it is today?
The answer, as you might have imagined, is because they followed the MVP approach. Since its inception in 2008, the company has rigorously acted on their users' feedback and learned from their in-app behavior data insights.
Spotify was founded with a mission to help artists unlock their creativity and live off their art and their billions of fans. And through the MVP approach, Spotify continuously delivered product iterations that not only addressed new pain points of their users, but they also struck the right balance between completeness and minimalism.
Case Study #2 – Dropbox
Dropbox is a famous cloud storage solution that didn't even release an MVP product.
Instead, the founder, Drew Houston, created a short video that demonstrated the first version of Dropbox and explained how simple it is for people to share their files across different devices.
Here's the video:
This is a simple & only a 3-minute long video that was published through a platform called Digg, which is known for its tech content.
This video was targeted at a community of technology early adopters, and right after the video was released, Dropbox's beta sign-ups just sky-rocketed, from a mere 5000 to 75,000 overnight.
What's even more interesting is that after the launch, Dropbox gained their 1st million users in a matter of just 7 months. And since then, they've been making improvements based on users' feedback consistently.
Today, Dropbox has over 500 million users and is currently valued at a whopping $10 billion USD.
Case Study #3 – Uber
Though we already shared how Uber was once just an MVP product that was intended to test the idea, we didn't really mention how the company grew to become the biggest ride-hailing service provider worldwide.
Uber was initially called 'UberCab' and the concept was simple: connect cab drivers with passengers and accept payments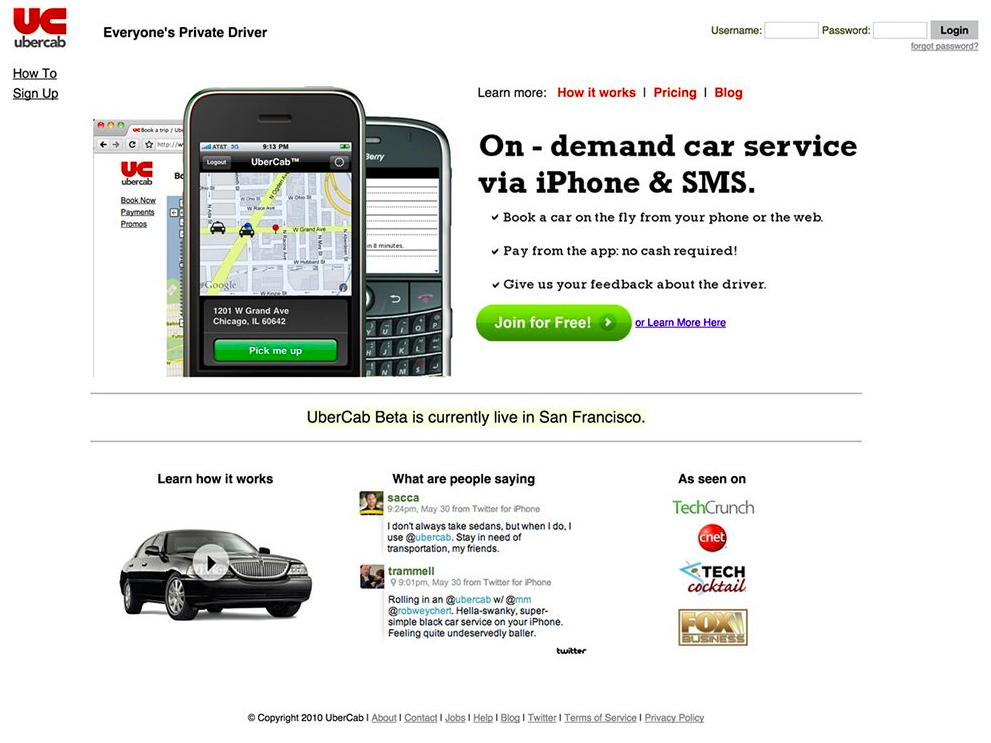 The company first targeted the San Francisco audience and after collecting enough user data, they started entering new markets including New York, Seattle, Boston, and other cities.
As they kept growing and entering new markets, it is only then the company was able to identify what features are valuable in their users' opinion and started adding them one by one.
For instance, after the Uber concept was widely accepted, Uber started adding the following features slowly as their user base expanded.
Real-Time Tracking of Drivers
Fare Estimates
Automatic Credit/Debit Card Payments
Ride-Sharing/Fare Splitting
And so on…
Fast forward to today, Uber is the most successful company in the new economy with a current valuation of $72 billion USD. In addition to this, Uber has 91 million active riders and 3.9 million drivers worldwide as of December 2018.
Final Thoughts…
I hope that these 3 case studies have convinced you that MVP is indeed the right approach to build a mobile app, gain rapid growth, and achieve massive success.
If you're still not one-hundred percent convinced, then just know this. – Developing a product, a mobile app especially, iteratively can help you identify and focus on your target users' needs.
In addition, since building the MVP version requires fewer resources, it also lowers the costs, risks, and maximizes efficiency. But, if you still think otherwise, feel free to share your thoughts in the comment box below.