Owning a hotel can be a head-scratching job for you due to intense competition and high overheads. It becomes more challenging when it comes to last minute's details. As you are well aware that every hotel tries to provide ample amenities to their guests, but it is a fact that there is always something left behind. Paying attention to the needs of customers and delighting them is the major criteria for any hotel to run a business successfully. However, lack of planning and poor execution can lead to customer dissatisfaction that can then have a compounding effect on your reputation & brand. So, if you are planning to satisfy your customers in every aspect, you should have proper hotel room supplies, dcor that matches with the persona of your target audience and services that match up to them as well.
What Are Hotel Room Supplies?
If you are running a hotel you will require some basic supplies to meet the needs of the customer. Moreover, you can also have auxiliary supplies that are not particularly basic but more of a luxury enhancement to delight the customers.
In many cases your existing supply-chain will have to be improvised to keep up with the luxury needs of your audience.
The whole set of amenities and fittings are collectively known as hotel room supplies. These are housekeeping amenities that are used by guests.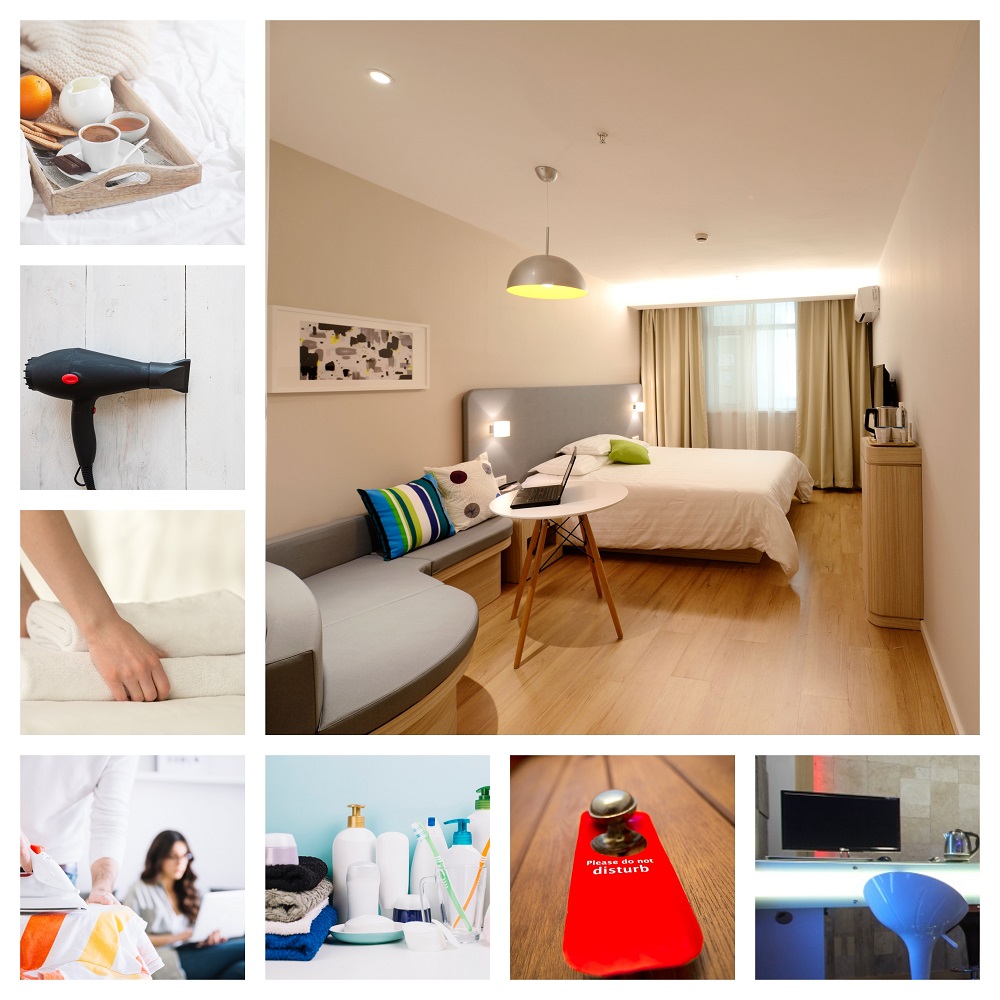 Different Categories Of Room Supply
Primary Supplies: If you check into a hotel room, the first and foremost concern will be the room itself. The lighting, cleanliness, and peaceful ambiance play a vital role in developing the first image of the hotel. In order to leave a good impression, every hotel should have a set of furniture, clean linen, and toiletries. These hotel room supplies are known as the essential supplies that include basic furniture like a bed, a pair of chairs, center table, closet, light, fans or air conditioners, and toilet supplies. The necessity also includes dustbins and geysers. However, the expectation of the customer may vary.

Furniture in itself deserves a separate article, due to the complex types of furniture that are required in different areas of a Hotel. Many of these themselves require a different theme

Lighting again deserves a lengthy bit of understanding which we will not be able to cover and should certainly be weighed in with several other factors like the variable cost and its harmony with the dcor.

Luxury Supplies: Apart from these primal needs, there are some other hotel supplies that are categorized into a luxurious section of the hotel room supplies. These are air conditioners, television sets, cribs and crib accessories for couples with babies, foldable luggage racks, and mounts. Although it may cost a little bit higher, these are effective in satisfying customers for repeat visits or positive peer marketing.

Auxiliary Supplies: There are certain auxiliary supplies that the esteemed hotels provide in the first place. But the trend has been changing as many have started replicating the same services in their hotels to elevate the reputation. If you are thinking of what extra you can offer, there is a long list of hotel room supplies that are available on the internet. These are food and beverages supply, laundry supplies, and small wares.

Who To Look Forward To Buying The Supplies?

As the competition is intense in the current market scenario, there are many hotels trying to curb their costs to the minimum level to earn some profit in the transaction. Now, there are two ways of curtailing the costs which are either by increasing the price of the room or by reducing the amenities. In both cases, the customer will leave dissatisfied and you will suffer a loss of business. So, is there any conjugate way of maintaining a reputation without escalating the costs? Well, there is, and they are the intermediate business entities that help you to redesign your rooms with hotel room supplies.

As an example, let's take hotel furniture since it forms a huge bulk of the non-civil cost. Fixtures and furniture's even for smaller sized hotels are large enough in number so as to directly enlist a hotel furniture manufacturer.

They offer high levels of customizations and you also save on costs by eliminating middlemen. You can make the deal even sweeter by sourcing from a reputed manufacturer in like China Or India like FurnitureRoots for Manufacturing Hotel Furniture.

There are also essential suppliers of products that cater to the needs of hotels and restaurants. Since they are a wholesaler, they purchase a bulk of products at a lower cost.

So, instead of buying the same stuff from a retailer or having to go through the hassles of dealing with a manufacturer, you can purchase it at a lower price. It not only reduces your costs but with proper relationship building, you can also enhance the room style as they are aware of the competition moves.