Fashion world is constantly changing and people are crazy about it. They are always ready to try new attire and look every day. Fashion designing is one of the most exciting and creative fields in this current trendy market. If you have an eye or passion to play with colors, fabrics, and textures then you can be a fashion designer. Well, first understand, what is Fashion Designing? Fashion designing is all about being creative with clothes, colors and accessories. This is basically influenced by our society and culture. Fashion designing courses gives you right direction and guidance so that you can understand all the essential elements involved in it.
WHO CAN BE A FASHION DESIGNER?
As you know, Rome was not built in a day. So, become a fashion designer in a day is also not possible at all. It's not only with fashion designing field, anything you choose in life, you will have to follow step by step procedure and being eligible for the course. You need to be keen and enthusiastic to give extra effort in order to take your innate passion to the next level. Fashion Designing is an art so being creative is a foremost thing and becoming a professional fashion designer you will have to deal with bunch of essential elements like proper understanding of fashion merchandising, evaluating the markets, choosing ideal target market, and many other things.
HOW TO BECOME A FASHION DESIGNER?
There are generally two ways by which you can become a fashion designer. These are:
Conventional, a more practical way of doing fashion designing course.

Not-so-conventional-way, without a certificate or diploma or degree.
Well, there is no right and wrong way to become a fashion designer. But yes, formal education in fashion designing will be a structured approach to achieve your goal. On the other hand, informal approach will be completely depends on you and the effort, time and energy that you give in achieving your goal.
Whatever will be your way, you should be prepared to deal with:
Sewing Skill:
An aspiring fashion designer must have sewing skills. If you know sewing techniques then sketching will be easier. You will have to deal with different types of fabrics. Some designers follow special techniques of stitching and style. That will come with experience, research and off course your ability to experiment. Being a beginner, you should improve this skill.
Designing Skill:
Designing garment and creating a magical piece simply implies bringing lot of important elements together. That includes Sketching, Choosing the right color and texture of the fabric and Technical skills.
Deciding A Niche:
To become successful fashion designer, it is important to follow your interest. Start thinking and then decide your niche where you want to progress your fashion designing career. You have some choices like Haute Couture, Mass Production, and Ready-to-wear.
Fashion Merchandising
Understanding the pricing techniques is another important aspect to become a successful fashion designer.  Pricing should be based on the production cost and involved overheads. Proper fashion merchandising enables you to understand the consumer behavior and strategy to run a profitable fashion business.
Market Analysis And Strategy
Understanding market condition and make the strategy according to that is an important quality of successful fashion designer. So if you want to take your business to the next level, first analyze the market and know the pulse of your customer.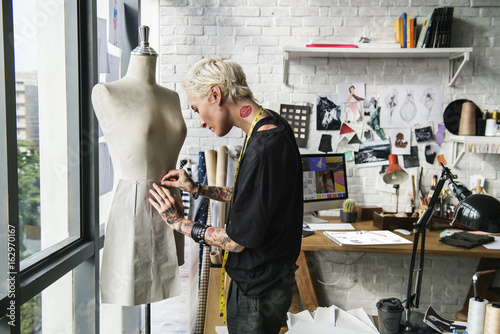 START TO BECOME A FASHION DESIGNER
Saree is our traditional wear but if we have the ability to experiment with saree then it can surely create a trendy look. Today most of the actresses of B-town display glamorous look with saree. If we talk about modern trend, we have moved from saree to salwar-suit, and then to t-shirts, short skirts and jeans. So if we have the capability to experiment and playing with colors, shapes, and designs then search for the ideal Fashion designing courses. There are two types of required qualification to pursue your career in Fashion designing that are:
Natural:

People who are born with the talent to experiment with colors and design creative shapes, come under the natural category. They just need little guidance and they can make their career in Fashion Designing.

Acquired:

People with no knowledge in this field but have the passion and interested to build career in Fashion designing then they need to undergo proper training or take course. They will have to acquire knowledge to become a fashion designer.
FASHION EDUCATION
For Fashion education, you can first do three to four-year graduate degree in fashion designing and then pursue a specialization for your Masters. Some top fashion colleges in India like JD Institute of Fashion Technology or NIFT offer specializations right from graduation. These colleges also offer fashion designing specializations in MBA. You need to decide your niche first, anything from fashion merchandising, apparel management, retail management, accessory designing or anything else. If you don't want to get master or bachelor degree in Fashion Designing then you have so many other options as well like diploma and certifications. It all depends on what you actually want to do and how you are planning to achieve it. Whatever is your plan, make sure to get ideal Fashion education that drives you in the right direction.
CONFUSED? IS IT A RIGHT CAREER FOR ME?
Fashion designing is undoubtedly one of the innovative and thrilling careers in today's scenario. Apart from this, if you will become a popular fashion designer then you will get high package and fame as well. Success will reach you automatically so there is no need to be confused. Just diagnose your interest. If you have ability to experiment with fabrics and colors, visualize and create new patterns, design trending and new looks then you are perfect fit for this field. If you have the ability to walk on the ramp as a fashion designer without any hesitation then you are in the right career path.
FROM WHERE, I CAN GET THE RIGHT COURSE?
There are so many best fashion designing colleges in India, but which one will be the best is a big question for aspirants. JD Institute of Fashion Technology is one of the top fashion institutes in India where you can get admission and get so many possibilities and opportunities in Fashion Designing world.
REQUIRED QUALIFICATION FOR A FASHION DESIGNING COURSE?
Minimum Qualification is a 10th passed out.  If you haven't passed 10th then no worries, we will provide required training and placement as well. So whether you have passed or failed in 10th class, no need to feel degraded. You have the opportunity to build your career in Fashion Designing and enter in this Fashion world. We will shape your career and make you to attain great heights in this field.
HOW MUCH IT COST TO BECOME A FASHION DESIGNER?
To become a fashion designer, you need to pay around Rs.45,000 per semester. We also have some scholarships so if you have any financial issues then get in touch with us. We will try our best to help you. Admission is open for everyone.
GENERAL PACKAGE:
In the beginning of the career, you will get around Rs.15000 to Rs.20000, which is quite good for the fresher. After getting two-three years of experience, your package will be improved and you will get around Rs.60000 to Rs.90000. Isn't exciting?
If you are looking for top fashion designing colleges in India, then JD Institute should be your first choice.
Now, you have good knowledge about how to become a fashion designer and what are the essentials for this career, so what are you waiting for? It's time to go ahead and pursuit your dreams. No one can stop you if you are sure about your passion. Good Luck!