Citronella essential oil is extremely beneficial for skin, hair, and overall health. This oil is often confused with lemongrass oil but they are quite different. This oil is extricated from Cymbopogon grass, hugely found in China and Indonesia. This grass comes from the lemongrass family and smell resembles a fusion of lemon and blossoms.
Citronella oil is a common ingredient in aromatherapy. Nowadays, this oil is used in various cosmetics, perfumes, deodorants, room fresheners, etc.
Keep reading on to explore what benefits you can get using citronella essential oil.
For Skin
Citronella oil renders numerous benefits to our skin, which includes some very basic problems that almost everyone suffers from. Having antiseptic properties, it addresses an array of skin complications like allergies, insect bites, rashes. Let us see the citronella essential oil benefits for skin.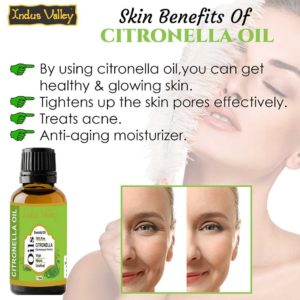 Lighten Skin Complexion
This essential oil is very effective in brightening skin tone removing the dead cells. The oil has a detoxifying element that clears the pollution and filth deposits from the inner layers of the skin. It provides a natural glow to your skin maintaining the necessary oil balance. That is why this oil is used in various fairness creams and face washes. You may also add a few drops of citronella oil to your daily face wash to get an unbelievable result.
Removes Wrinkles
Due to aging our skin collagen gets damaged which hardens the skin. It ravages skin elasticity and suppleness. Dryness is another cause of the appearance of fine lines. Dryness directly affects the collagen that brings wrinkles on young skin too. Citronella oil is very light that stimulates the skin cells penetrating deep into the skin layers. Regular use prevents the skin from getting dull and wrinkle-prone making it youthful and supple.
Removes Pimples and Acne
As the citronella oil is a good source of antioxidants, it dismays the germs reacting to the skin. It purifies the skin removing growing acnes and pimples completely and provides healthy skin.
For Hair
Citronella oil is also beneficial for your overall hair and scalp health. Using two drops of this essential oil in your regular shampoo will make your tresses smoother while reducing scalp itchiness, fungal infections, and dandruff problems.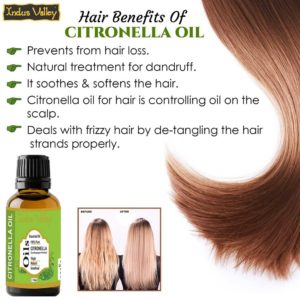 Get Voluminous Hair Naturally
With a simple oil massage with citronella essential oil for hair growth, you can achieve thick hair volume. In a glass bowl, take ¼ cup of pure almond oil. To this, mix 2 drops of citronella oil. Stir well and apply this to the entire scalp and hair massaging gently without exerting any pressure.
Allow 20 minutes for the oil to get fully absorbed into the hair strands and scalp. Apply any mild organic shampoo to rinse your hair.
Try this massage once every week to get effective results.
If you are looking for deep hair conditioning, treat hair loss problems and promote the growth of newer follicles, apply this oil mask before bedtime and leave overnight.
Over time, this will make your hair soft, glowing, and voluminous reducing hair fall and breakages.
For Health
Being one of the most effectual ingredients of aromatherapy citronella oil cures a number of health problems. Here are the health-related problems that can be treated using citronella essential oil.
Relieves Stress
Add a couple of drops of peppermint citronella and lavender essential oils in a diffuser or potpourri. This will spread a nice aroma in your living room while bestowing a soothing effect on the mind and body to provide effective relief from stress and anxiety.
This sort of diffuser also benefits in treating problems like bronchitis, congestion in the respiratory tract, excessive mucus production, etc.
Note: Never inhale citronella oil directly as it causes damage to the lungs upon entering the respiratory tract. It is recommended using it in a diffuser with a carrier oil or other essential oils.
Treat Skin Infections
To get rid of complications like fungal infections and ringworms add a few drops of citronella oil to a bucket full of lukewarm water. Take bath with this water every day until the problem persists. This remedy also helps to reduce body odour.
Make a Natural Deodorant
Having a strong fragrance with lighter floral notes and lemon, this gives a pleasant sweet scent when applied as a deodorant.
For those who are anti-tolerant to chemical-based body scents, this is a natural deodorizer, you can make at home with some simple ingredients.
In a glass bowl, add about ½ cup of extra virgin coconut oil, 2 tbsp of baking soda, 4 drops each of lemongrass oil and citronella oil. Mix all the ingredients properly. Store this in an emptied roll-on deodorant container and put inside the refrigerator.
You can apply this every day after bathing with gentle strokes on the underarms. When not in use, you can put it back in the fridge.
Using citronella essential oil for overall healthcare gives you several benefits. However, it is advised to stop using it if you notice any complications.