Are you looking for an events calendar which gives you all the functionalities you could possibly imagine in a calendar?
Sure you do, so here's a full review on an all-in-one events calendar called "Modern Events Calendar". Here we are going to have a look at all the features this plugin provides you with.
Modern Events Calendar is unique in its design among its rivals, but design is the least of them when it comes to learning about this plugin. Its customizability knows no boundaries, and more remarkably after the recent release of several add-ons, now it is fully compatible with Elementor Page Builder and you can easily customize every inch of the calendar. Furthermore, it provides you with almost all the payment gateways including, WooCommerce, PayPal, Stripe and etc.
One of the new add-ons called "WooCommerce Integration" even allows more flexibility in payments/ticketing and more.
Keep reading to know more about the world of functionalities this plugin has to offer.
A modern design and a great look is at the core of this plugin as the name offers. What is interesting is that using this event calendar you won't have a design problem, meaning that you will have great looking calendar out of the box. This is an important point, since some of the calendars out there require a lot of custom styling.
Anyway, let's get to the functionalities. This plugin might be a pioneer in design but certainly it's giot other features just as important as its design, like its flexibility in payments and being user-friendly in set-up. Using Modern Events Calendar you can create one-day, multiple-day, recurring, at specific times of all-day and never ending events.
It allows you to add categories, organizers or speakers, labels, tags and location to help you organize your events as well as you'd like. Besides there are lots of different displaying options like skins and layouts and different views like Full Calendar View or List View and etc. by which you can have any possible look for your calendar. In addition to these views, there are a search option and also a filtering option in the shortcodes to help the viewers find the event they are looking for.
Modern Events Calendar has an advanced booking/ticketing system and it is not only limited to listing events. It allows you to create tickets of different types (limited/unlimited), collect payments via PayPal, Stripe, or in-person and practically with any gateway WooCommerce can collect payment, Modern Events Calendar is compatible. You can offer coupons for discounts, and have reminder notifications, sending emails to the customers and send booking confirmation and verification emails as well.
Taking your first paces with Modern Events Calendar
After finishing up with installing and activating MEC, a welcome screen comes up which has some videos and also FAQs which are pretty nice, since they get you a bit familiar with how the plugin works.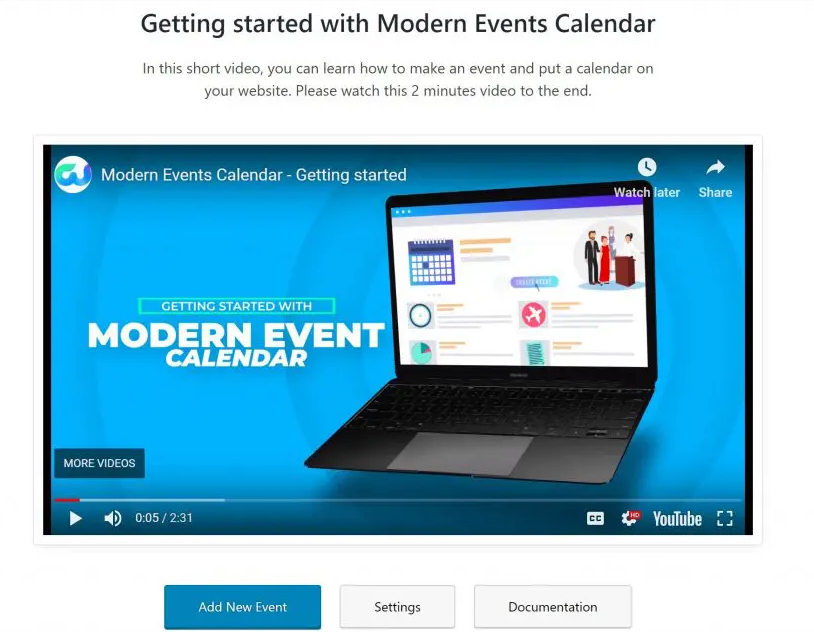 Creating an Event
Add New Event menu is very simple to work with. There are different sections:
1.Event Title
In this section you can simply choose a title for your Event.
2.Event Description
Here you can enter all the details and explanations about your event. For example, if your event is a course on how to ride horses, you can come up with an introduction on how you are going to teach the attendees and what are the plans during the course.
3.Event Details
As the name offers it includes all the tiny details about the events which manage the time, date and repeating of the events. For example, you can set a start and an end time and check the all-day event box and then the event will automatically repeat until it ends.
a. Date & Time
Start and End Time
All day Event
Hide Event
Hide Event End Time
Event Repeating
b. Hourly Schedule
Here you can add an hourly schedule and state what is going to be done throughout a particular period of time during the event.
c. Location
Name the location of the event, alongside its longitude and latitude to show it on Google Map widget.
d. Event Links
Event Link (External Link)
More Info
e. Event Main Organizer
Introduce the organizer and his website, phone number and other details if necessary.
f. Event Cost
The last but not least is the cost of the event. However, to enable the Booking system you need to proceed to Settings first and enable its module.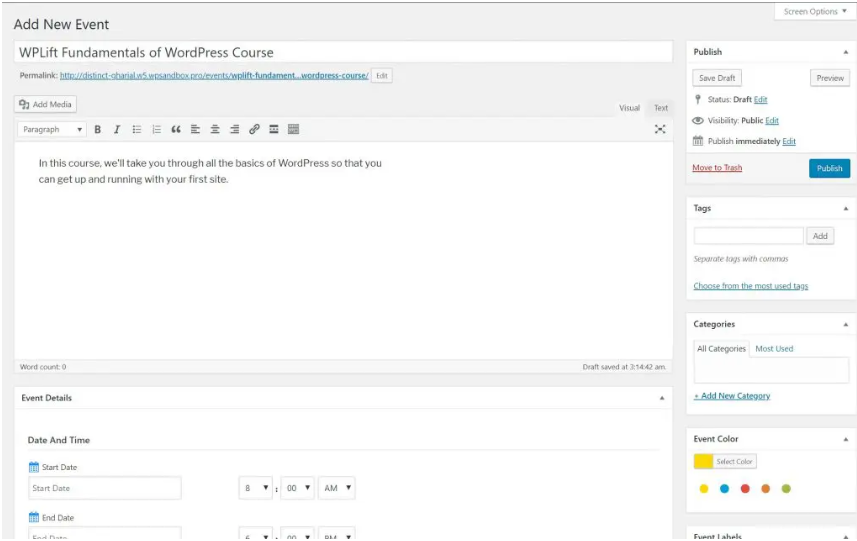 At the right sidebar of the Event Edit Page you can also choose your categories, tags, labels and event Color.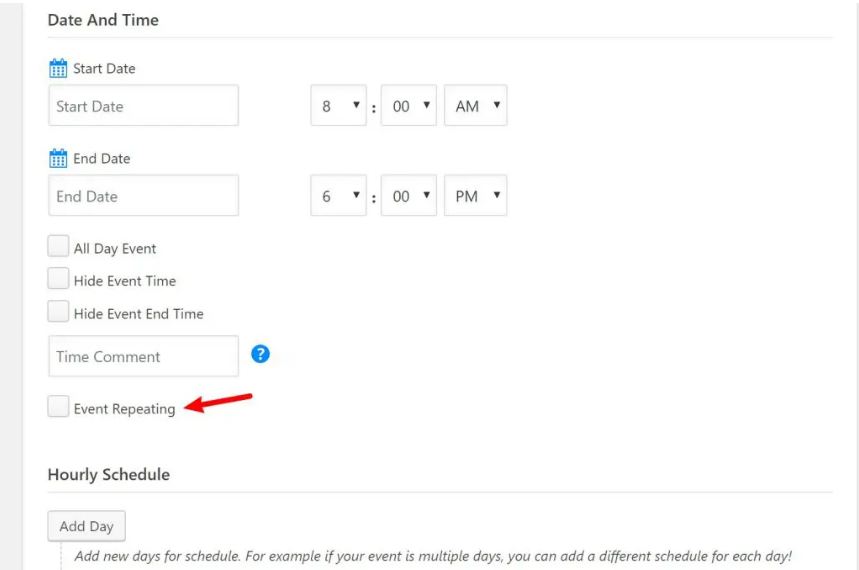 Another great onboarding is the availability of tooltips in front of some of the tools in the plugin settings itself.
Enable Ticketing/Booking System
To enable the Booking/Ticketing system you need to head over to MEC Settings and Modules and check the box for the Booking. This is only available in the Pro version. After enabling the booking and refreshing the page you will get a new meta box in your Event Edit Page in which you can edit both the booking related options and also ticket related options, like setting a limit for the tickets or making them unlimited.
Displaying Your Events
By going to M.E. Calendar → Shortcodes in the premium version you will have full access to a lot of views by which you can show your events on the calendar in different ways.
I believe these views or shortcodes to be precise are one of the fortes of Modern Events Calendar and these are the tools that give you a great look right out of the box.
What's more interesting is the fact that you can add different shortcodes to different pages, and this will help you separate your different events and place them with their own particular calendar look.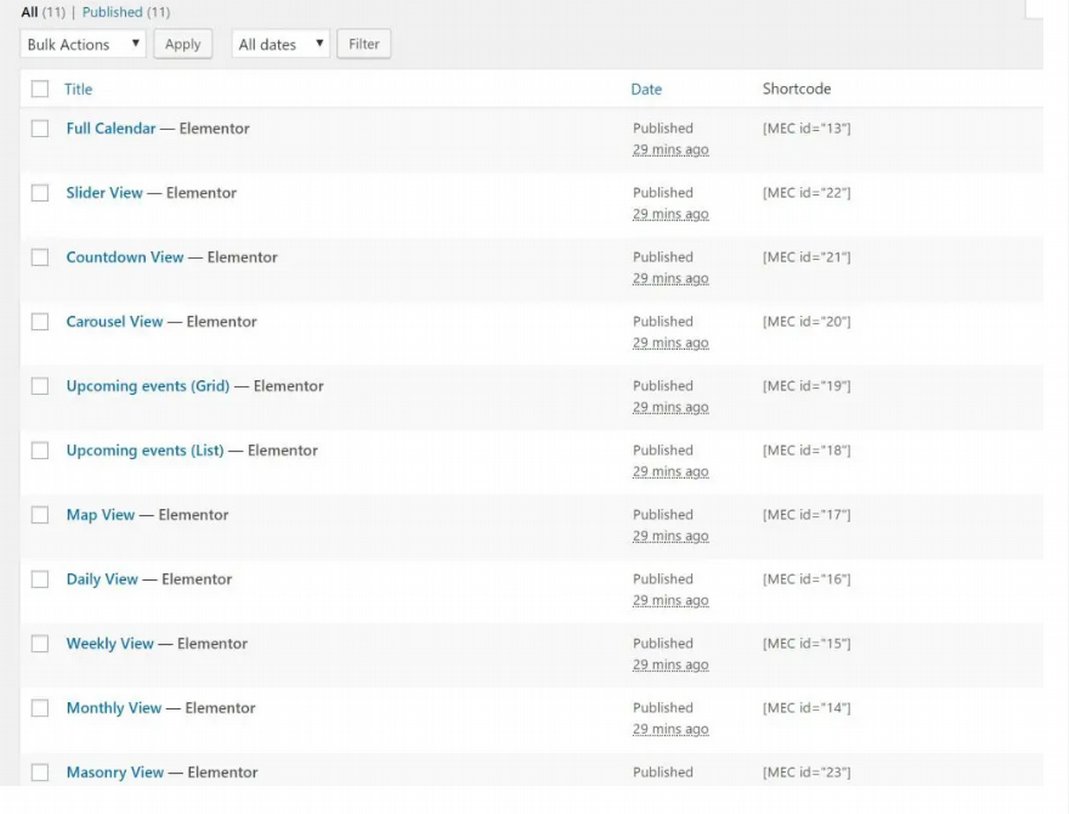 Here's the Full Calendar View in which the visitors have access to all other views. Meaning that the visitor can see the events in any looks she likes. The visitors can search for events and switch between views, which is a superb option.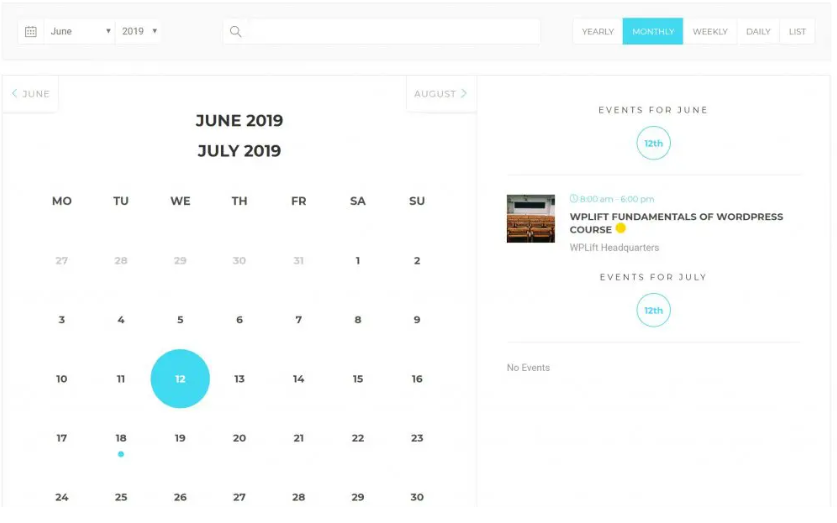 Or, you could have a nice looking Masonry Gallery view like this: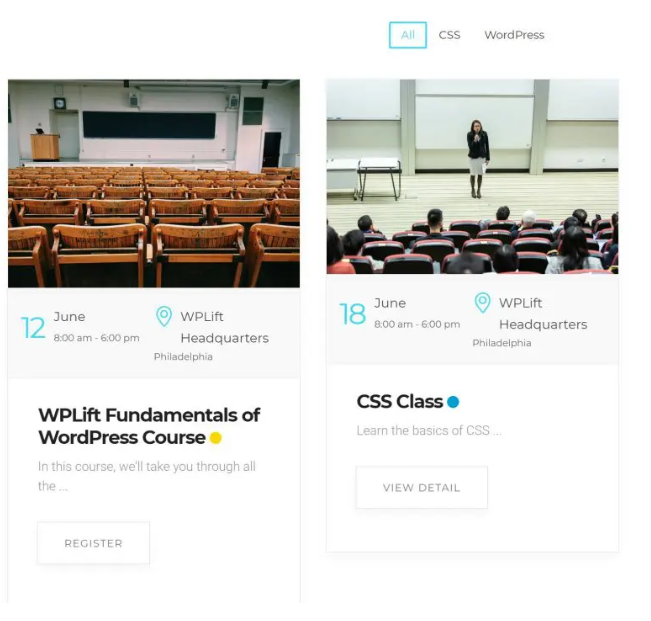 And at last, when clicking your event, you will enter the single event page, which has a gorgeous look, that is also customizable: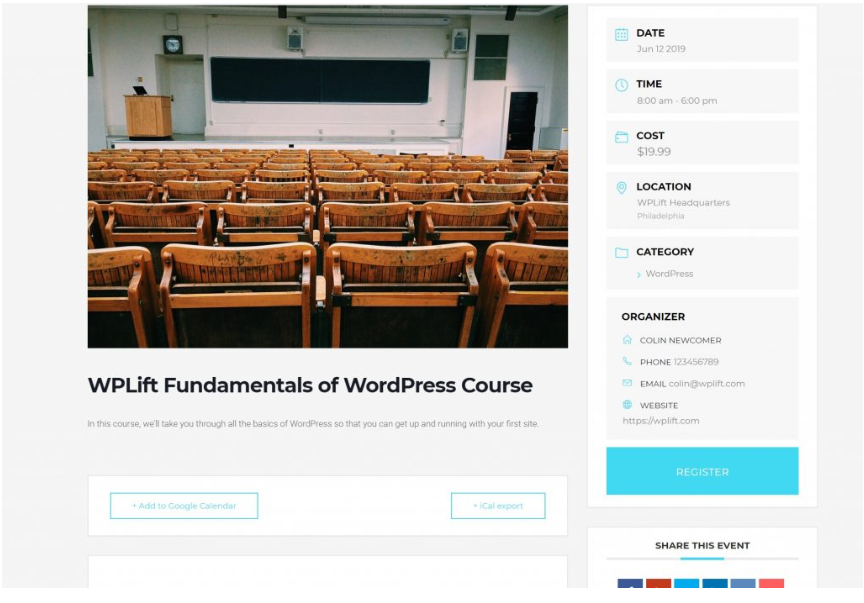 The premium version includes 11 pre-built shortcodes. These are as follows
Full calendar
Slider view
Countdown view
Carousel view
Upcoming events (grid)
Upcoming events (list)
Map view
Daily view
Weekly view
Monthly view
Masonry view
Besides there is another option for the users that allows them to create their own customized shortcode, using the shortcode builder.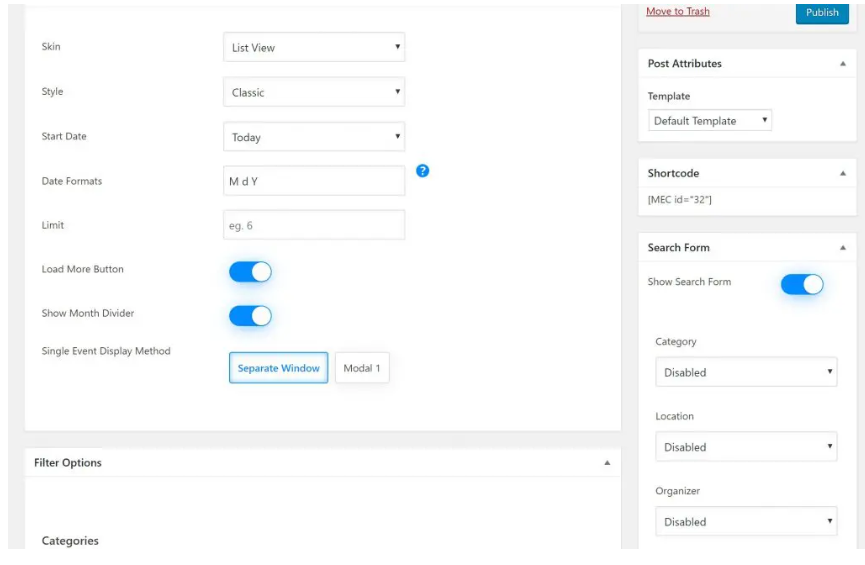 Recently there has been several add-ons for this plugin as well, one of which is Elementor Shortcode Builder, by which you can design your shortcode live.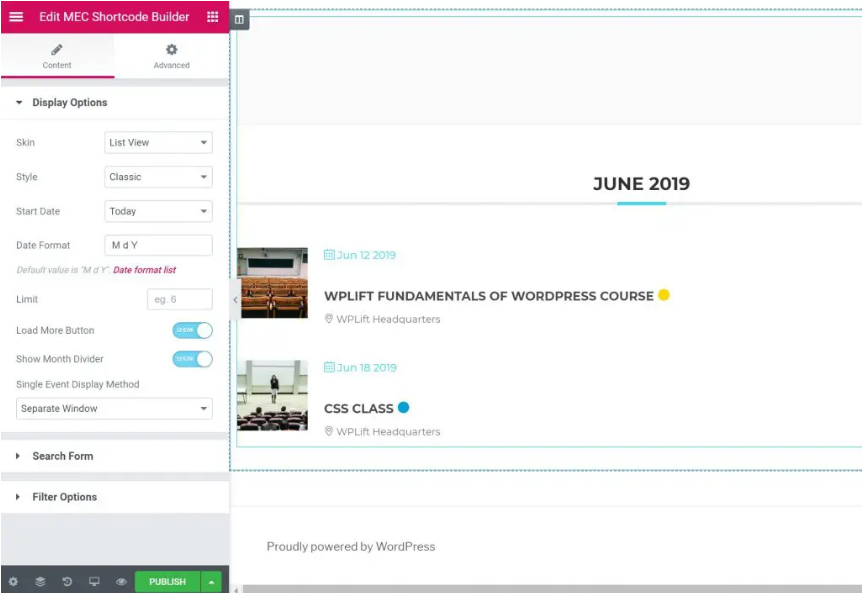 How the Booking System Works
Modern Events Calendar comes with a lot of functionalities and it is not possible to cover all of them in this review. However, it is not reasonable to end it without a look at the advanced booking system.
The booking process
After you enable the booking module in the settings, this is how it works in both front-end and the back-end:
There will appear the booking form on the front-end where the visitors can see it (It has vast customizability, and you can also customize it using the Elementor Form Builder add-on).
Visitors can chose their desired event and proceed to checkout.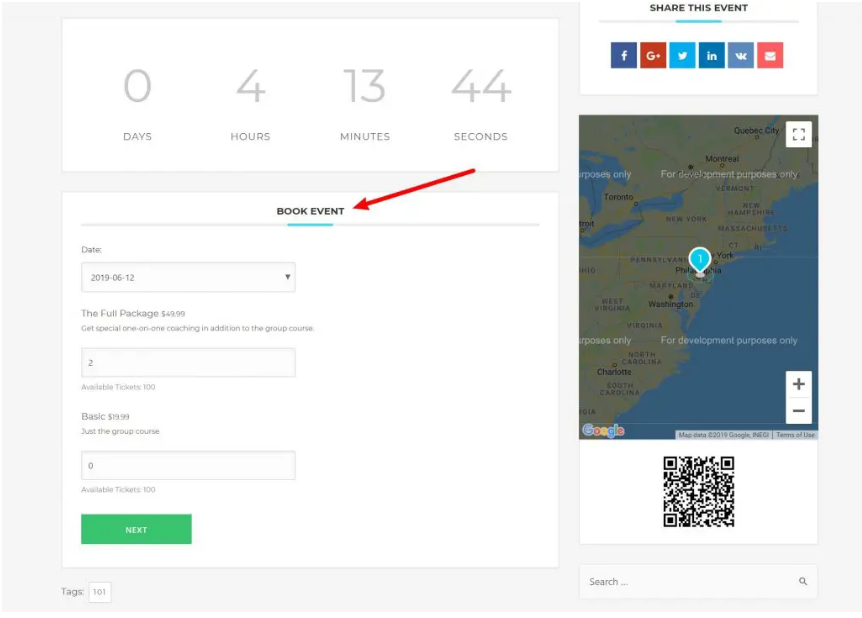 Then the visitor can enter the details for purchasing (these details can be customized in the form).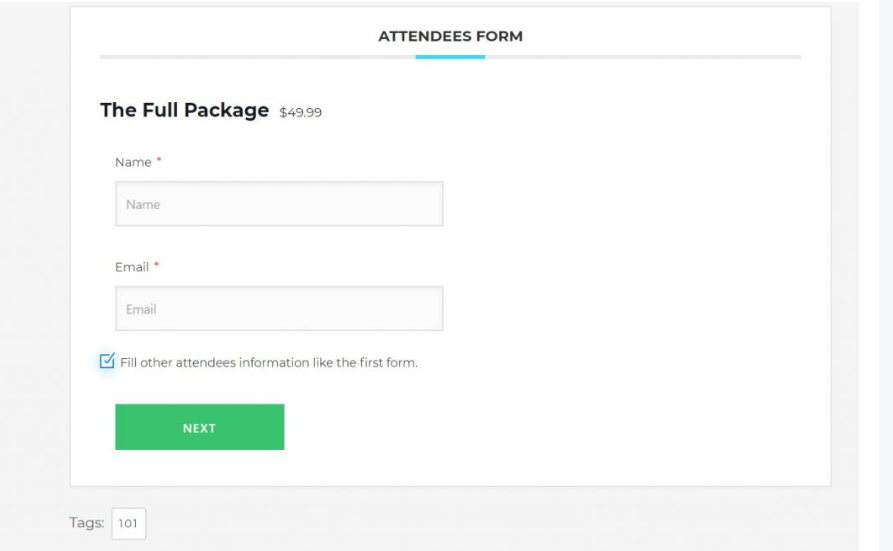 Now they will choose the payment method and proceed with their purchase.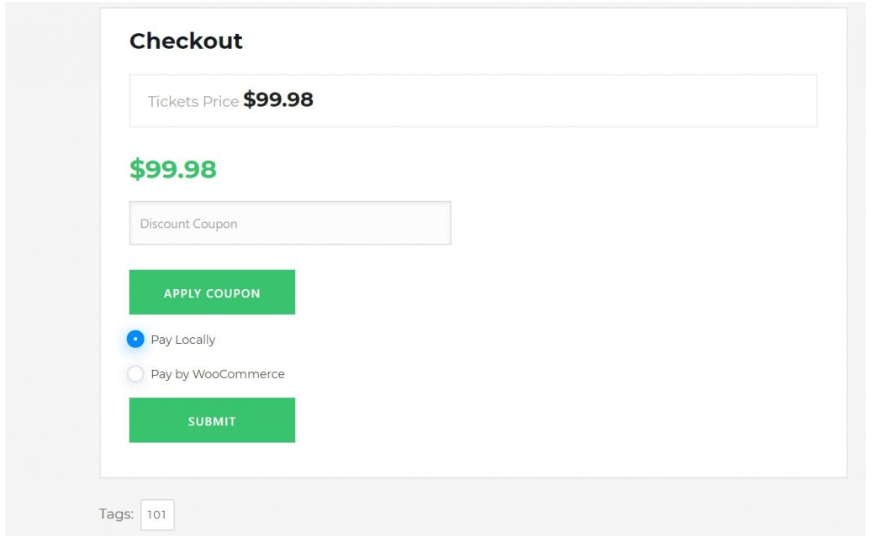 They will get both the invoice and an email notification for their purchase. Now you as the admin can manage the Bookings in the WordPress dashboard. Also you can manage confirmation and verification of the bookings if you like.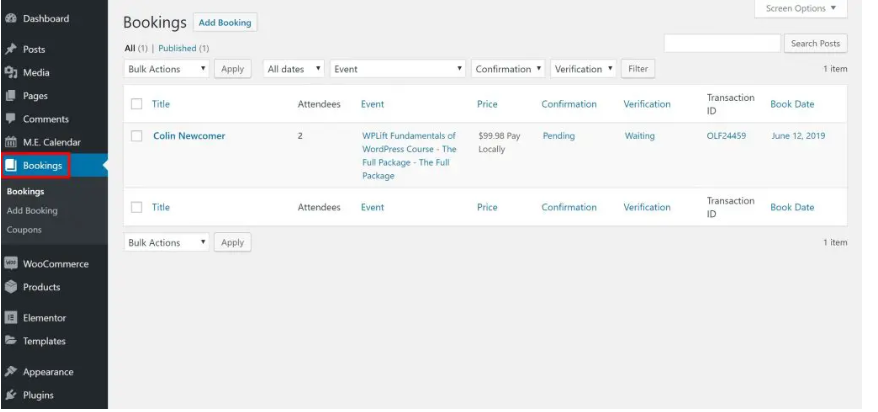 Modern Events Calendar Pricing
At WordPress.org. you can find the limited free version of Modern Events Calendar which you can
download. If you only need to list your events without a booking system or a ticketing system, then this
would be a good choice.
Yet, if you need a booking/ticketing system and also full access to all the views and some other
functionalities or Add-ons then you need to go Pro.
The premium version comes in 3 packages, the difference of which is only in the number of websites you
can use them on.
For 1 site – $55
For 5 sites – $199
For 10 sites – $375
All of these plans include lifetime updates and also 1 year of premium support.
Besides there are plans for the add-ons separately:
These add-ons are as follows:
WooCommerce Integration: $35
Elementor Form Builder: $35
Elementor Single builder: $35
Elementor Shortcode Builder: $35
Elementor Add-ons Bundle: $79
Woo Plus Elementor Bundle: $99
Wrap-up on Modern Events Calendar
There are 2 main points where Modern Events Calendar is pioneer:
The design of all its views and its single events page right out of the box and also the customizability they have. You really do not need to customize anything by the way, since it is so well-designed.
How many functionalities it offers for customizing your events and scheduling them. You can make any events with any kind of repeats you can possibly imagine, not to mention the Elementor integration is also another huge step forward for this beautifully designed plugin.
Finally, if you need an event calendar by which you need to list your events and also you need a booking system, you need to consider Modern Events Calendar, since it has all the functionalities you need for listing events and how they are repeated and also payment methods and ticketing system. It has everything you might be looking for, and as we mentioned before the features available in this product are beyond the scope of this review.