Night fishing is among the coolest things one can enjoy on a trip to Dubai. It might sound weird but once you get indulged in the beauty of green and blue lights all over the ocean, you can't think anything else. In this blog, I will discuss night fishing and some important aspects related to it. Here's what you will get to read:
What is Night Fishing?
Is it different from day fishing?
Stuff to bring along
Safety tips for night fishing
What Is Night Fishing?
Night fishing is a type of fishing that is done at night. It is both exciting and challenging which attracts visitors as they get to enjoy fishing trips in Dubai in a very different manner as compared to day fishing. The view is so satisfying that it is almost impossible to take one's eyes off this mesmerizing beauty. However, most of the visitors go for fishing during the daytime. Though there's nothing bad with the idea as it depends on their schedule, free time, and a lot more things. So, I'm not judging. But, if you are planning a trip, I would suggest you to add night fishing in UAE to your to-do list.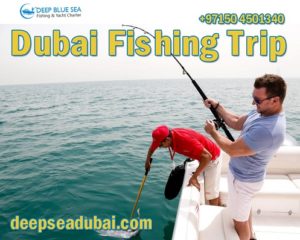 Is It Different From Day Fishing?
The answer is 'Yes'. There are many factors that make night fishing trips in Dubai very different from day fishing. The first great thing about night fishing is the favourable weather conditions. In daytime, the weather is extremely harsh in Dubai but that's not the case at night. Nights are comparatively more pleasant and relaxing.
Another great part is the view it offers to the visitors. Night fishing boats in Dubai use different lamps and there are many yachts around which creates an illusion of being in another world. You get yourself on the water, surrounded by illuminated boats which give surreal vibes. However, it is very challenging at the same time and you need to be prepared in order to fully enjoy it.
Stuff To Bring Along
Being on a boat at night is both exciting and risky. You should cross-check whether the following safety pieces are there on the boat:
Headlamps & flashlights
Backup batteries
Boat lights
First aid kit
Emergency blanket
Life Preservers
Cell phone
Pocket knife
Though your crew will be there by your side, you must remember that you haven't done this before. You need to be fully prepared and come with all the essential items.
Safety Tips For Night Fishing
Though fishing boats in Dubai are designed taking all the safety measures in consideration, you may still land yourself in danger if you make even a small mistake. Here's what you need to do:
Tell Someone Everything Including Your Fishing Location, Plan & Expected Time To Return
If you are a local, you must inform your family members or neighbours about your night fishing plans. Even if you are here for a trip, you can still inform someone who is accompanying you, or your hotel staff. Doing this is important so that if you don't return by the time you have said, they can check on you or sound an alarm. It offers peace of mind as you know that someone is there to check on you if something happened.
Prefer Sitting Down While Reeling It In
If you hook a catch, you must sit down and then reel it in. Fishing in the dark comes with a lot of risk that nobody expects but you never know! So, make sure you take a sitting position so that you don't lose your balance while reeling a catch in. Doing so, you will be able to have a good fishing experience without being occupied with the possibilities of unpleasant incidents.
Carry The Necessary Items
You should never be overconfident just because you are going to try something different. Fishing at night is a rewarding experience but you need to be extra careful at the same time. Carrying the right stuff on the boat will ensure that you are well prepared for an emergency and can keep yourself protected against all the possible hazards. All these things are going to help you stay safe while fishing in UAE.